Linkin Park confirm new single 'Burn It Down'
By Gemma on April 13, 2012
The track will be released as a digital download next week on Monday, April 16.
Speaking about the choice of lead single, frontman Chester Bennington said that it encompasses everything they wanted to achieve with their next album.
"All of our songs take these really big creative turns and twists throughout the process, so sometimes songs will start out as a melody or some musical chord progressions. Other times, they'll start out as beats, and the next thing you know they kind of evolve over the course of the making of the album," he told MTV.
"But what's interesting about this track is the really high energy and the really strong electronic melodies and hooks kind of set this song apart, which is why we chose it as our first single.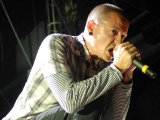 "We've kind of drifted into a lot more kind of electronic, digital feel, but what's interesting about this record is that a lot of songs – people might pick up on this – but a lot of the songs kind of were started as these folk-driven songs.
"So there's a very organic element to the record, as well as a very modern, kind of futuristic element too. We can't wait for our fans to hear it."
Talking about the album as a whole, Bennington added: "This album is a really great representation of where we're at right now as a band. We're kind of really comfortable with our early nu-metal days, and we're really comfortable with where we're at in our more contemporary version of ourselves, so this is a good representation of that comfort level with our own identity as a band."
Linkin Park's fifth studio LP is expected to be released in June. Other confirmed track titles include 'Lost in the Echo', 'In My Remains', 'Castle of Grass' and 'I'll Be Gone'.
Advertisement

More art / design

Alex | March 28, 2013
Alex | March 24, 2013
Gemma | March 19, 2013

follow & like us

More Elsewhere

Advertisement

more

follow & like us

more elsewhere

Advertisement

more music

alice | February 16, 2018
Chris | September 1, 2013
Alex | August 26, 2013

follow & like us

more elsewhere

Advertisement

more style

Sarah | August 12, 2013
Taylor | August 12, 2013

Prepare your wardrobe: Urban Outfitters Autumn/Winter Look Book

Taylor | August 12, 2013

follow & like us

more elsewhere
Copyright © 2013 Shakeupthesky